Registered Veterinary Technician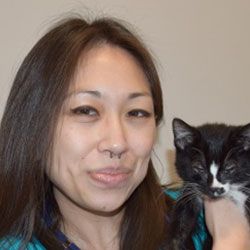 Lucille Tse, RVT​​​​​​​
Registered Veterinary Technicians
I recently became a Registered Veterinary Technician while working for a previous veterinary clinic and learned many skills. I yearned for more knowledge so I decided to join South Bay Animal Hospital and Pet Resort. I have been having a great time being part of the amazing staff at our hospital and operating the amazing equipment that we have especially the in-house blood test machines. On my days off, I like to read materials to gain knowledge of up-to-date veterinary technician information. When I have read too much, my cat Rasa Libre (DSH), my kitten Rocky Horror (DSH, three-legged, polydactyl), and my tarantula Cling-On (14 years old) will let me know it is time to hangout! I like to hangout with friends and family in the kitchen while we are cooking something up during a conversation. I also like to stay active with fitness or busy exploring locations big and small. One day, I hope to specialize in Clinical Pathology as I love looking at blood samples.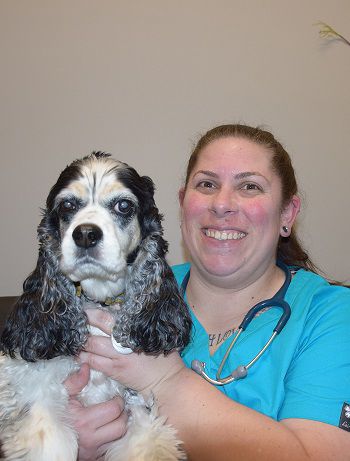 Valerie Figone, RVT​​​​​​​
Registered Veterinary Technicians
Animals have always been a passion of mine. I have been working in the animal care field for 15 years, from running doggie daycare and boarding facilities to Animal Control. I decided to pursue a career in Veterinary Technology only about 5 years ago, because I felt I wanted to be more proactive in the care of animals, and am now a Registered Veterinary Technician. Although right now I primarily work with dogs and cats, reptiles and exotics are my passion. I someday hope to work in an exotics-only hospital. I also happen to own a reptile business outside of working at the vet hospital. I currently own about 60 reptiles, a guinea pig named Meatball, and my dog Mira, pictured with me.
James Magee, RVT
Registered Veterinary Technician
Veterinary medicine was a career change for me. I took classes at Foothill College and got an internship as a vet tech assistant, and I never looked back. I now have over six years of experience in this field and I love what I do because I do what I love. I have been at South Bay Animal Hospital and Pet Resort for 3 years. I am proud to be a part of the original staff from our opening in 2015, and I am delighted to announce I have earned my Registered Veterinary Technician license this last year. When I'm not at the practice, I play a mean guitar, listen to as much rock and roll as I can, fix stuff around the house, and tinker with my '65 Mustang. (It will live again... eventually.) I have two rescue dogs (That's Luna as a puppy in the picture with me), 2 cats, and a handful of assorted reptiles.
NEW CLIENT?
SCHEDULE AN APPOINTMENT WITH US
Online appointments must be made between 8:00 am and 4:30 pm. Please call for appointments 24/7!
Emergency Only walk-in hours are between 8:00 pm and 8:00 am.
REQUEST AN APPOINTMENT NOW