Registered Veterinary Technician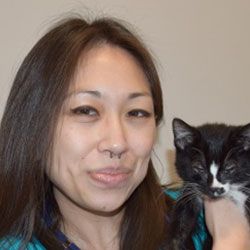 Lucille Tse, RVT​​​​​​​
Registered Veterinary Technicians
I recently became a Registered Veterinary Technician while working for a previous veterinary clinic and learned many skills. I yearned for more knowledge so I decided to join South Bay Animal Hospital and Pet Resort. I have been having a great time being part of the amazing staff at our hospital and operating the amazing equipment that we have especially the in-house blood test machines. On my days off, I like to read materials to gain knowledge of up-to-date veterinary technician information. When I have read too much, my cat Rasa Libre (DSH), my kitten Rocky Horror (DSH, three-legged, polydactyl), and my tarantula Cling-On (14 years old) will let me know it is time to hangout! I like to hangout with friends and family in the kitchen while we are cooking something up during a conversation. I also like to stay active with fitness or busy exploring locations big and small. One day, I hope to specialize in Clinical Pathology as I love looking at blood samples.
James Magee, RVT
Registered Veterinary Technician
Veterinary medicine was a career change for me. I took classes at Foothill College and got an internship as a vet tech assistant, and I never looked back. I now have over six years of experience in this field and I love what I do because I do what I love. I have been at South Bay Animal Hospital and Pet Resort for 3 years. I am proud to be a part of the original staff from our opening in 2015, and I am delighted to announce I have earned my Registered Veterinary Technician license this last year. When I'm not at the practice, I play a mean guitar, listen to as much rock and roll as I can, fix stuff around the house, and tinker with my '65 Mustang. (It will live again... eventually.) I have two rescue dogs (That's Luna as a puppy in the picture with me), 2 cats, and a handful of assorted reptiles.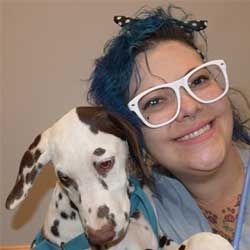 CJ Karamanos, RVT
Registered Veterinary Technician
Born into a family of medical professionals, Cj was destined to thrive in medicine. With over a decade in the field, she continues to flourish as an RVT here at SBAH&PR, providing outstanding animal care. She's our resident "painted lady" as she has over 100 hours of tattoos! Cj cohabitates with over 7 species, runs an art studio, and still somehow has time to dye her hair something new!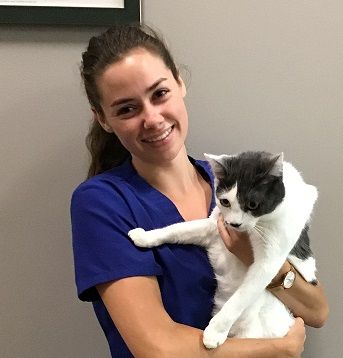 Madison Chok, RVT
Registered Veterinary Technician
Like most RVTs, my love for animals stems back to my youngest years. We had the blessing to adopt our first dog when I was 11, and Max has been the furball love of my life ever since. I realized after a year in the Hospitality program at SFSU that I'd much rather cater to animals' needs than peoples. Switching majors and careers was an easy decision, one that I've never regretted. I truly enjoy spending my days helping not only the animals we see, but their families as well. I became a Vet Tech in the summer of 2017, and RVT a year later. I'm enjoying working with the great team at SBAH while expanding my knowledge and skills. I'm excited to see where this career takes me!
NEW CLIENT?
SCHEDULE AN APPOINTMENT WITH US
Online appointments must be made between 8:00 am and 4:30 pm. Please call for appointments 24/7!
Emergency Only walk-in hours are between 8:00 pm and 8:00 am.
REQUEST AN APPOINTMENT NOW